Sex/Life season 2 has been confirmed by Netflix, although no release date has been announced.
Netflix's 2021 mega-hit Sex/Life made 50 Shades of Grey appear like a children's coloring book with its frank narrative of desire and love.
Billie's struggle between her love for her family and the more adventurous and rewarding sex life with her ex, Sex/Life, was inspired by BB Easton's novel 44 Chapters About 4 Men, and left spectators stunned and wanting more.
"Sex/Life is a dream come true," series creator and showrunner Stacy Rukeyser remarked following the renewal. It's not just a lot of fun, but it's also a lot of satisfaction to make a program about powerful female sexuality that has captivated millions of people.
"I am so inspired when I think of all of the ladies who have contacted out from all over the world to tell that the program speaks to them on a really personal level. I'm ecstatic and grateful for the chance to keep sharing Billie's story, and for all of us."
The first season felt rather straightforward, with Billie returning to her husband and children, content to continue living in her suburban existence.
But, in the final few minutes, she changed her mind and chose to invest in the affair she had been attempting to avoid.
As a result, season two has a lot to unpack. But what will happen next, and who will return to the series? Here's what we've learned thus far.
Sex/Life season 2 release date: When can we anticipate season 2 of Sex/Life?
Sex/Life season two has yet to be granted a release date, although the cast has been teasing returning to production since the beginning of February 2022.
"Almost time to start @sexlife season 2," Adam Demos, who plays Billie's old boyfriend Brad, captioned a shot from the first season on Instagram. Pumped!"
Sarah Shahi, who plays Billie and is Adam's real-life fiancée, shared the feeling with remarks like "My Brad… My baaaabbyy
View this post on Instagram
 So, if production begins in February 2022, we may safely anticipate new episodes towards the end of the year.
Because the first season was released in June 2021, we believe it will deviate from Netflix's usual "same time as last year" guideline. Everything appears to be falling into place way too quickly in four months!
We think it'll be around November, at the very least. However, come back and we'll give you a comprehensive update as soon as we have it.
What is the status of the Sex/Life season 2 production?
(Last Updated: 09/12/2021) Official Production Status: Filming Scheduled/Pre-Production
The program has been under pre-production in Ontario, Canada, since November 2021, according to the Canadian Director Guild.
Stacy Rukeyser (the showrunner of Sex/Life) confirmed on January 22nd that the scripts for season 2 were completed, with the last episode of season 2 named "Heavenly Day."
And just like that… there's a season finale. Gearing up for @sexlife season 2! #sexlife pic.twitter.com/cy1KOBL2zE

— Stacy Rukeyser (@littleruke) January 22, 2022
Filming is apparently set to begin on February 7th, 2022, according to information published in Production Weekly issue #1276. Filming will begin on April 29th, 2022, and will last for many weeks.
Read More:- Hightown Season 3 Release Date: Who Will Be Appearing?
According to the Canadian Director's Guild, post-production on the program will go until June 17th, and sound posts (such as ADR) will last until the end of October 2022.
Throughout January 2022, the cast members teased getting back into production.
"Back at it…. @sexlife S2," Mike Vogel wrote at the end of January 2022, indicating that he was back in Toronto in preparation for the production. What better place to begin than the top gym in Toronto?"
In January 2022, Stacy Rukeyser announced that she will be departing for Vancouver.
Adam Demos wrote on Instagram on January 28th, "Almost time to start @sexlife season 2 Pumped!"
During March and April, plenty of photos were taken in and around Toronto for season 2 production.
SEX LIFE filming at the ROM in Toronto @TOFilming_EM @WhatsFilmingON pic.twitter.com/clnFYpXQJN

— the FilmTripper (@theFilmTripper) March 2, 2022
Sex/Life filming at Trinity Bellwoods today. Adam Demos and Sarah Shahi on set. @WhatsFilmingON @TOFilming_EM pic.twitter.com/WV1QWrAtQr

— AQ (@ameam) April 6, 2022
Meghan Heffern announced on April 28th that it was her final day on set, adding, "Caroline is not sexy." "I think everyone will be extremely delighted with season two of Sex Life because Caroline is Caroline."
Danielle Statuto, the show's editor, said on Instagram on May 10th that she was editing the season finale of Sex/Life season 2.
When will Sex/Life season 2 be available on Netflix?
Given that filming doesn't begin until February and concludes in April, there's just a slim possibility that Sex/Life will return in 2022 for a second season.
The series might return as early as the end of 2022, although it's more probable that it will return in early 2023.
Which cast members will be back for season 2 of Sex/Life?
A large number of actors from the first season will undoubtedly return. Sarah Shahi, Mike Vogel, and Adam Demos, the actors behind Netflix's sauciest love triangle, will all be back.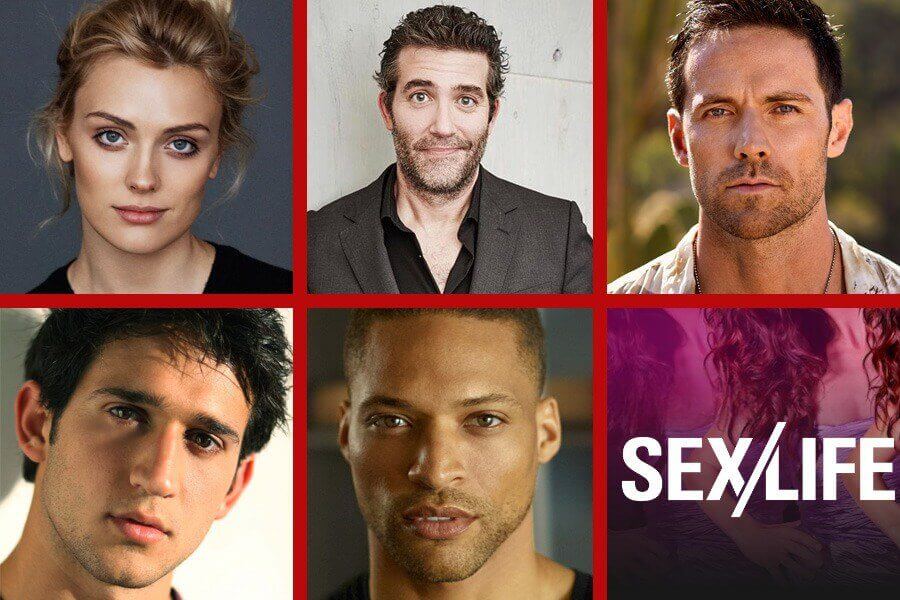 The following actors are expected to return in Sex/Life season 2:
| Role | Cast Member |
| --- | --- |
| Billie Connelly | Sarah Shahi |
| Cooper Connelly | Mike Vogel |
| Brad Simon | Adam Demos |
| Sasha Snow | Margaret Odette |
| Hudson | Phoenix Reich |
| Devon | Jonathan Sadowski |
| Francesca | Li Jun Li |
| Trina | Amber Goldfarb |
We also learned who will be joining Sex/Life season 2 in late February 2022.
Gigi will be played by Wallis Day, who is most known for her roles as Kate Kane in Batwoman and Agent Shin in Infinite.
Mick will be played by Craig Bierko (UnREAL).
Spencer will be played by Dylan Bruce (of Orphan Black and Midnight, Texas fame).
Majid will be played by Darius Homayoun (Amir in Succession and Peyman in Apple TV+'s Tehran).
Kam is played by Cleo Anthony, who has been in Divergent, Transparent, and NCIS.
In other Sex/Life news, the showrunner recently contributed to a lengthy essay for Vice on how the showrunner is currently in crisis.
Read More:- Succession Season 4 Release Date: Has It Already Been Revealed?
In season 2, we also know that Jessika Borsiczky will return to direct.
Are you excited for Sex/Life season 2 to premiere on Netflix? Please let us know in the comments section below!
Sex/Life season 2 trailer: Is there any new Sex/Life footage?
View this post on Instagram
Unfortunately, aside from the formal season two announcement, we have nothing to rely on in terms of fresh footage at the time.
Read More:- Euphoria Season 2 Release Date: Who Will Be the Series' Stars?
But keep checking back, and we'll let you know as soon as we get more information.